[BUY 5 FREE 2] FRESH SALMON CRISPY BEANCURD ROLL 6PCS/PKT 三文鱼腐竹
[ 𝐑𝐀𝐌𝐀𝐃𝐀𝐍 𝐏𝐑𝐎𝐌𝐎! 𝐁𝐔𝐘 𝟓 𝐅𝐑𝐄𝐄 𝟐! ]
100% Premium Salmon Meat Made Chinese Dim Sum Dishes!
A delicious aromatic Salmon Dumpling, Salmon Siu Mai (Shu Mai), and Salmon Fuzhu Crispy Roll, they are made from our premium salmon are reared in the fast-flowing clear, deep waters off the coast, 100% pure guarantee!
ORDER NOW to get the exclusive promote❕
1. Salmon Dumpling / 6 pieces per pack; 三文鱼锅贴 / 一盒6粒装
2. Salmon Siu Mai (Shu Mai) / 5 pieces per pack; 三文鱼烧卖 / 一盒5粒装
3. CRISPY BEANCURD SALMON ROLL 6PCS/PKT 三文鱼腐竹卷 / 一盒6粒装
HOW TO REDEEM THE FREE ITEM?
Step 1: Click 5 in "Quantity" before putting it into the cart
Step 2: Click "Add to Cart"
Step 3: Bonfisken.com will proceed with your order, the 2 FREE [100% Fresh Salmon Premium Meat Fuzhu Roll] will pack in the box.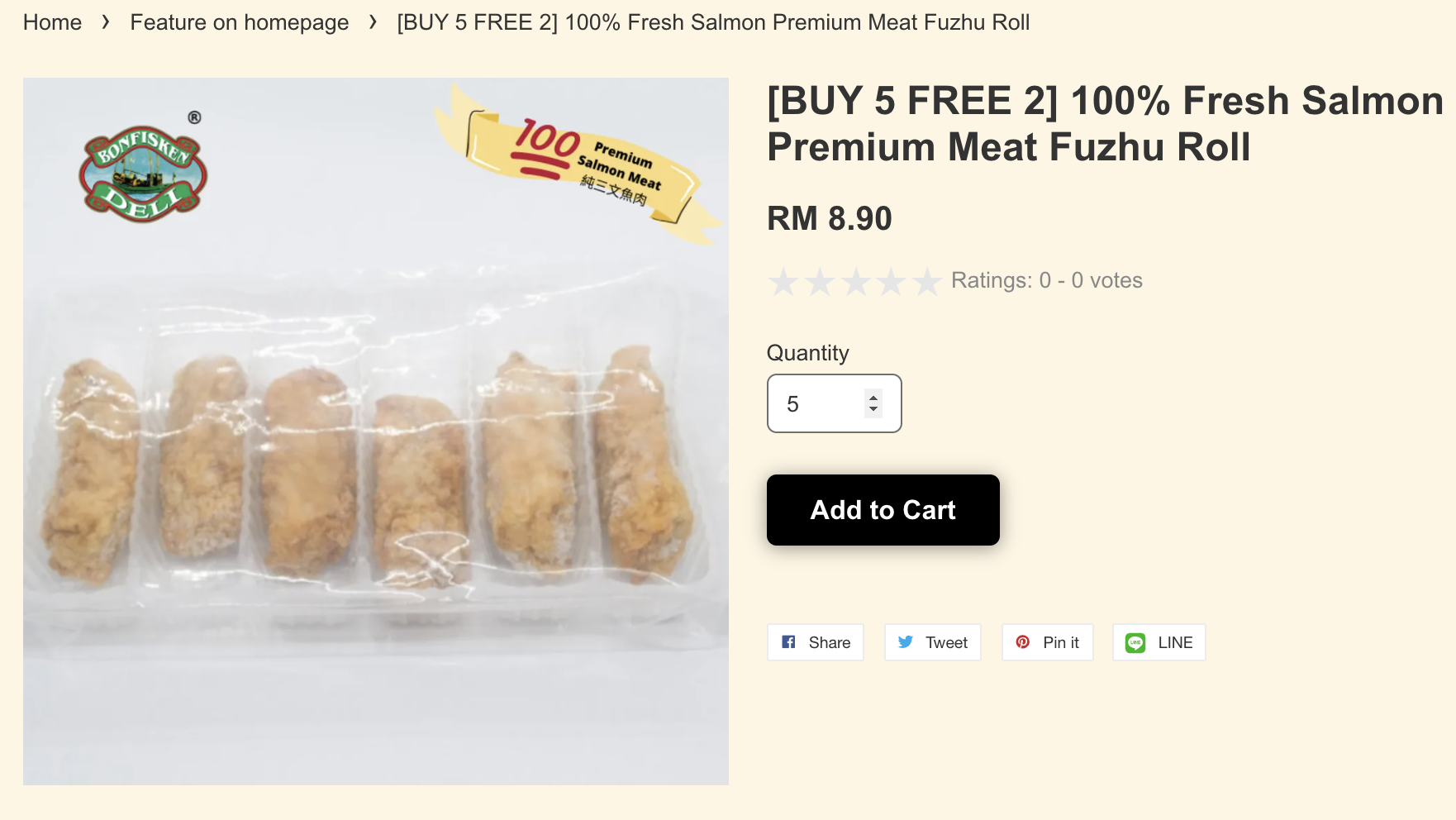 Product Description
Features
Halal
Salmon Crispy Roll
Ready to Cook Product
Serving Size 30 g, Servings Per Pack 6 pcs
Ingredients
(Filling) Chicken, Salmon, Prawn, Sugar, Water Chestnut, Sesame Oil, Salt, White Pepper Powder, Contain Permitted Food Conditioner (E450 & E451), monosodium glutamate
(Skin) Tofu Skin
May contain soy derivative, fish derivative, crustaceans, gluten and egg
Nutritional Information
NUTRITION
SERVING SIZE: 100 G




PER 100 G

Energy

223.0 g

Carbohydrate

27.3 g

Protein

12.3 g

Fat

7.8 g
Reference intake of an average adult (8400kJ/2000kcal)
Product Information
Third-Party Logos
Halal-certified Local 'JAKIM'
Origin
Manufactured in Malaysia
Preparation and Storage
Preparation and Usage
Fry for until golden
Steam for 4 minutes


Storage
Keep frozen at -18°C.
Name and Address
Packed For:
ATE Exim (M) Sdn Bhd
23, Jalan Perindustrian SIS 1, Taman Perindustrian SIS 228,
43700 Beranang Selangor
Packaging
Numeric Size
Numeric Size - 180
Unit (specific)
Unit (specific) – Grams
---