FRESH SASHIMI 500 GM/PKT (KLANG VALLEY AND SEREMBAN ONLY)
FRESH SASHIMI 500GM/PKT
Indulge in our latest airflown fresh salmó (fjord trout) sashimi, known for its remarkably rich texture and flavour.
This item is pre-order basis.
Delivery every Tuesday, Thursday, and Friday only.
For Seremban customers, delivery will be on Tuesday and Friday only.
*Please note that this is a preorder item.
If there is any selected ready stock product purchase together with this item, it will be sent together with the pre-order product.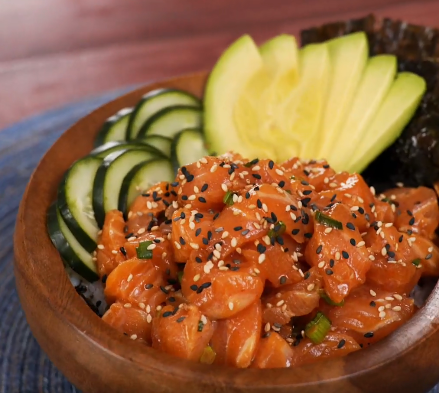 POKE BOWL



Ingredients
Rice
1 cup of sushi rice
5 tablespoons rice wine vinegar
1 teaspoon sugar, to taste
1 teaspoon salt, to taste
Seasoned seaweed, to taste
Salmon Poké Bowl
1 pound sushi-grade salmon filet cubed
5 tablespoon low-sodium soy sauce
2 tablespoons sesame oil
2 tablespoons lime juice
2 teaspoons rice wine vinegar
1/2 tablespoon sriracha
2 tablespoons green onion, thinly sliced
1/2 ripe avocado, sliced
1/2 cucumber, sliced
Roasted seaweed sheets, to taste
Black and white sesame seeds, to taste
Steps
Rice
Cook the sushi rice according to the package instructions.
In a small bowl combine the vinegar, sugar, and salt.
Once the rice has slightly cooled, gradually pour and fold the mixture into the rice, along with seasoned seaweed.
Salmon Poké Bowl
In a bowl, combine soy sauce, sesame oil, lime juice, rice wine vinegar, sriracha, and green onion.
Add cubed salmon and mix gently to combine.
To assemble, scoop slightly cooled rice into a bowl, top with seasoned salmon, avocado, cucumber, roasted seaweed sheets, and sesame seeds.
---